DecraShape® is a decorative kiln dried S grade EPS shape coated in KickIt® plaster.
DecraShape® is our usual standard method of manufacturing mouldings and shapes.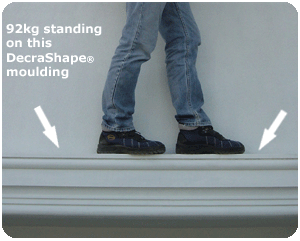 Decorative mouldings may be water repellent in themselves, but due to the diverse situations they may be used in, they are not to be used as a weathertight material. Architects and competent tradespersons must follow professional trade specifications for the application of a weathertight membrane on the building before fixing Accumen Shapes Ltd decorative products. We strongly recommend that informed and competent installers fix the mouldings and shapes.
Installation methods should be clearly understood BEFORE installing decorative products manufactured by Accumen Shapes Ltd.
Accumen Shapes Ltd can recommend professional plasterers throughout New Zealand who are available to assist you with installation.