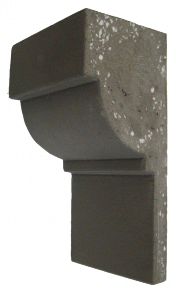 ShapeCrete® is a decorative lightweight concrete shape.
ShapeCrete® mouldings are easy to fix mouldings of many sizes and shapes, from smaller architrave mouldings which are lightweight solids, to larger parapet and dado mouldings which are lightweight concrete mouldings with infill being of construction grade EPS.
The make up of the lightweight concrete is a modified cement based product with small lightweight particles and other reinforcement additives which helps make a strong and easy to handle product.
Mouldings are normally made from 1.2m up to 2.7m long, however custom lengths can be manufactured depending on shape.
Historical Buildings

Quarried stone is expensive to duplicate or replace. Architects and designers are now opting for fourPLUS® or ShapeCrete® Lightweight Concrete as an economical substitute for original stonework on historical buildings.

Accumen Shapes make their own moulds and mouldings when involved in restoration.

Accumen Shapes' products are located on many historic buildings where they blend with the original construction

Because of weight reduction, the mouldings may be positioned on site without the need for heavy lifting equipment. fourPLUS® and ShapeCrete® Lightweight Concrete have a similar stone or concrete like appearance that blends well on historical buildings.

Accumen Shapes is the leading manufacturer of architectural mouldings and the company has a reputation for expertise in the replication and manufacture of lightweight architectural designs for historical buildings.
Application

TidyUp® adhesive plaster is ideal for attaching the mouldings to various masonry surfaces. Care should be taken that the TidyUp® adhesive plaster completely fills the entire back face between the moulding and wall. The lightweight solid mouldings should have mechanical stainless steel fixings applied at centres that may vary from 0.8m to 1.6m. The TidyUp® adhesive plaster can be used to fill in the countersunk mechanical fixing area.

As the mouldings are principally a modified cement base material, there may be some slight differential expansion and contraction compared with the attaching wall, and consequently in some situations it may be advisable to leave a control joint between the lengths of moulds which can be filled with a satisfactory backing rod and sealant.

Decorative mouldings may be water repellent in themselves, but due to the diverse situations they may be used in, they are not to be used as a weathertight material. Architects and competent tradespersons must follow professional trade specifications for the application of a weathertight membrane on the building before fixing Accumen Shapes Ltd decorative products. We strongly recommend that informed and competent installers fix the mouldings and shapes.

Installation methods should be clearly understood BEFORE installing decorative products manufactured by Accumen Shapes Ltd.

Accumen Shapes Ltd can recommend professional plasterers throughout New Zealand who are available to assist you with installation.