Sharpness of mind, the ability to judge well
An opening in a wall, such as a window or a niche, framed by columns or pilasters and sometimes surmounted by a pediment (from Latin, "little temple")
The moulded frame surrounding a door or window
A fine detail surrounding a column just below the top capital
The bottom feature of a column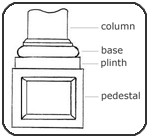 The crowning feature of a column
A moulding fixed horizontally at the base of a window or door (also spelt Sill)
A vertical shaft with moulded base and capital
Supporting members projecting from the face of a wall usually found under an eave or large cornice detail
A decorative feature found under the eaves of a roof or at the join between walls and ceiling in a room
A lower part of an interior/exterior wall
A series of small rectangular blocks (tooth-like) spaced in a band to decorate a cornice
The underside of a projecting roof
Concave, vertical grooves in the surface of a column
A wedge-shaped stone in the crown of an arch or in the center of a lintel to lock the structure
The horizontal top piece of a window or door opening, requiring strength in order to support the wall above it
A cornice-type detail that is fixed to the outside of a wall as an alternative to an eave
A decorative feature, usually triangular but often segmental, found on gable ends, above porticoes, doors, windows or aedicules. The upper part of the pediment is formed by a cornice moulding. Some pediments are split to receive some ornament or finial in the center, and occasionally the open ends of the split pediments are terminated in some form of scrolled block.
A rectangular column with a capital and base, projecting only slightly from a wall as an ornamental motif.
A squared moulding at the corner of a building or other architectural feature. Quoins are usually staggered so that on a given elevation one sees alternately headers and stretchers.
A spiral, scroll-like ornament found on Ionic capitals and some brackets. It is likely that the Ionic capital was initially inspired by the head and horns of a ram.